April turned out to be a fantastic month for me on the reading front. For some reason I found myself tearing through books. I was just devouring them, so many books were appealing to me that I was inundated with lots of choice. I just seemed to bounce from one book to another loving everything I was picked up. I read a real mixture in terms of genre, there was a quite a lot of YA that found its way to my reading list as well as historical fixture, a little bit of crime and some comedy. In terms of book ratings I cant really say I had any misses this month, all the books I read were rated highly and were thoroughly enjoyable.

Silent Scream by Angela Marsons
Rating – 5/5
Five figures gather round a shallow grave. They had all taken turns to dig. An adult sized hole would have taken longer. An innocent life had been taken but the pact had been made. Their secrets would be buried, bound in blood …Years later, a headmistress is found brutally strangled, the first in a spate of gruesome murders which shock the Black Country. But when human remains are discovered at a former children's home, disturbing secrets are also unearthed. D.I. Kim Stone fast realises she's on the hunt for a twisted individual whose killing spree spans decades. As the body count rises, Kim needs to stop the murderer before they strike again. But to catch the killer, can Kim confront the demons of her own past before it's too late?
I was on a huge detective/crime binge throughout March and this continued into the beginning of April. (I do tend to pick and genre and roll with it for ages). Having now caught up on Stuart McBrides Logan McRae series I was on the hunt for a new crime series and a new detective to love. I'm quite picky when it comes to fictional detectives and they have to appeal to me straight away or I wont be able to get into the story. Amazon very kindly suggested Angela Marsons Kim Stone novels so I thought I would give the first in the series Silent Scream a go and I was so impressed by this book. I liked the character of Kim, she didn't steal my heart like Logan has but she is an interesting character. She is strong and not afraid to bend the rules if the case requires. We learnt quite a bit about Kim's past early on but I definitely think there is more to explore and unfold. The team she works with were pleasant and again I feel with more books I could grow to really like them. What I loved about this book though was the detective are of it. If you are a fan of books that really detail police procedures you will love this. Everything the police did, every interview they carried out, every piece of evidence uncovered was described in such detail I felt like I was there as one of the team involved in it happening. It was the kind of book that really got to the nitty gritty of police work. I really loved that it was so detailed and heavy on the procedure side of the investigation.The story was packed with suspense throughout as well as lots of twists and turns some of which I thought were incredibly clever and unexpected. It was a great series opener and a great book to start my interest in Angela's work and luckily she has plenty more for me to get stuck into.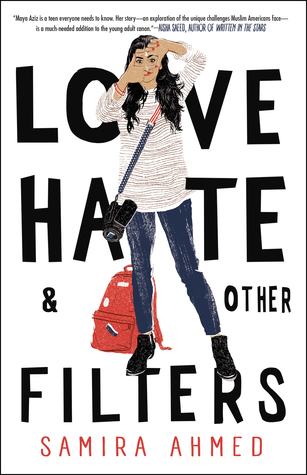 Love, Hate and Other Filters by Samira Ahmed
Rating – 4/5
Maya Aziz dreams of being a film maker in New York. Her family have other ideas. They want her to be a dutiful daughter who wears gold jewellery and high heels and trains to be a doctor. But jewellery and heels are so uncomfortable…She's also caught between the guy she SHOULD like and the guy she DOES like. But she doesn't want to let Kareem down and things with Phil would never work out anyway. Would they? Then a suicide bomber who shares her last name strikes in a city hundreds of miles away and everything changes . .
I had heard a lot of talk about this book online and was really interested in the idea behind it. The premise seems really topical and current and like it had a lot of scope to make an impact. I really enjoyed this book, I like the character of Maya and felt for her situation. She's desperately trying to walk the line between her happiness and desires and those of her families which are heavily influenced by their culture. In my life I have been surrounded by people who have often been in similar situation so I know how hard that can be. The majority of the characters in this book I was a big fan of Maya's aunt Hina who was so supportive and it was so nice to see someone standing up for her. I also liked both love interests in Kareem and Phil, and the situation between them just highlighted the wider conflict Maya faced.
I feel I cannot discuss this book without mentioning the events of the terrorist attack. When this takes place the person deemed responsible shares a surname with Maya and this leads to ramifications for her and her family and in turn how her family treat her. From what I had heard of this book I thought this would be the focus of the story but it wasn't, these events didn't occur until much later in the book. I thought this was really interesting take because although these events were important Mayas story and development was more important.
Fat Chance by Nick Spalding
Rating – 5/5
Meet Zoe and Greg Milton, a married couple who have let themselves go a bit. Zoe was a stunner in her college days, but the intervening decades have added five stone, and removed most of her self-esteem. Greg's rugby-playing days are well and truly behind him, thanks to countless pints of beer and chicken curry. When Elise, a radio DJ and Zoe's best friend, tells them about a new competition, it seems like the perfect opportunity to turn their lives around. Fat Chance will pit six hefty couples against one another to see who can collectively lose the most weight and walk away with a £50,000 prize. So begins six months of abject misery, tears, and frustration—that just might turn out to be the best thing that ever happened to them.
This book was a re-read and is one of my favourite books of all time. I have a post where I discuss in detail this along with some of my other favourites which you can read here.Essentially it's one of the funniest, heartwarming stories I have ever read. The two main characters just struck such a cord with me that made me so invested in them and their story. It was lovely to revisit it and just know I was going to have a great couple of days whilst reading it.
Savage Island by Bryony Pearce
Rating 4.5/5
When reclusive millionaire Marcus Gold announces that he's going to be staging an "Iron Teen" competition on his private island in the Outer Hebrides, teenagers Ben, Lizzie, Will, Grady and Carmen sign up – the prize is one million pounds … each. But when the competition begins, the group begin to regret their decision. Other teams are hunting their competitors and attacking them for body parts. Can the friends stick together under such extreme pressure to survive? When lives are at stake, you find out who you can really trust…
I was so excited to read this book! I have read three books in the Red Eye series before this one all of which were by Alex Bell and I have been delighted with all of them so I was keen to read more. This is obviously by a different author but I expected it to be just as dark and eerie and it didn't disappoint. The premise for this story is so wonderfully grim and gory. We follow 5 teenagers who travel to an island to take part in what they believe is a natural survival challenge. However they soon realise the game makers want them to sacrifice body parts to be able to win the game…sounds pretty grim right? But part of me felt I wanted it to be pushed further I wanted more body parts and more sacrifice then we got. Does that make me odd?!. I must say of the 5 main characters we followed I wasn't a fan of any of them if I am honest. There was no one I felt particular affiliation to or really cared about, oddly though this didn't stop me from loving the book. It kept me hooked until the end with so many twists and turns occurring. It was packed with suspense and I stayed awake far too late just to finish it because I had to know how it ended. If I had to choose one word to describe this book I would pick haunting. The ending gave me chills and you just felt the sheer sense of helplessness the characters must have felt. It just left me feeling cold, uncomfortable and well..haunting.
Stalking Jack the Ripper by Kerri Maniscalco
Rating 4/5
Seventeen-year-old Audrey Rose Wadsworth was born a lord's daughter, with a life of wealth and privilege stretched out before her. But between the social teas and silk dress fittings, she leads a forbidden secret life. Against her stern father's wishes and society's expectations, Audrey often slips away to her uncle's laboratory to study the gruesome practice of forensic medicine. When her work on a string of savagely killed corpses drags Audrey into the investigation of a serial murderer, her search for answers brings her close to her own sheltered world.
I have been meaning to pick this book up for a while since I saw Hailey of Hailey in Bookland raving about it. I like many people am fascinated with the Jack the Ripper crimes, isn't it bizarre how as humans we cant help but be intrigued by dark and gory happenings even though they are incredibly unpleasant. I finally took the plunge and bought it and I'm so pleased I did, have never read a book like this before. Essentially it documents the Ripper murders but with fictional characters living through and investigating them. It was a really clever idea and as I say I hadn't come across anything like it (there probably are books like this out there does anyone have recommendations of books similar to this?). I really liked out main character of Audrey Rose, she was a strong lady who didn't want to conform to women's roles of the time. Despite this there were a few occasions where she annoyed me a little by being a tad juvenile in her actions BUT she is only 19. She is in a rather unusual situation so one could excuse this and say its actually a good portrayal of a young character.
I think it was very interesting that I am used to reading books about crime where the characters have lots of science and techniques at their disposal to investigate a crimes. However in the Victorian period when this is set they didn't have that and had to piece the crimes together in a different way. Part of me really missed that and made me question how different it would be today if those crimes were committed. It was definitely successful and I was desperate to get to the end and find the outcome. I admit I did work out who the killer was quite early on and found myself frustrated with the characters and how long it took them to work it out but I guess if they figured it out right away there would be no book! Overall I really enjoyed it and am definitely going to read the sequel Hunting Prince Dracula.
Goodbye Perfect by Sara Bernard
Rating 4/5
Eden McKinley knows she can't count on much in this world, but she can depend on Bonnie, her solid, steady, straight-A best friend. So it's a bit of a surprise when Bonnie runs away with a guy Eden knows nothing about five days before the start of their GCSEs. And it's the last person she would have expected. Sworn to secrecy and bound by loyalty, only Eden knows Bonnie's location, and that's the way it has to stay. There's no way she's betraying her best friend. Not even when she's faced with police questioning, suspicious parents and her own growing doubts. As the days pass and things begin to unravel, Eden is forced to question everything she thought she knew about the world, her best friend and herself.
This book was one I was really anticipating at the start of this year. I loved Sara Bernard previous two book particularly A Quiet Kind of Thunder so I was keen to read more from her. I found this book really enjoyable, it was a really easy relatively quick book to finish. We follow Eden as she comes to terms with the fact her best friend Bonnie has run away with her music teacher whom Eden didn't know she was having a relationship with. I found it was a great exploration of friendship, how fragile they can be when you are a teen and the ramifications of trust being broken. I loved how incredibly loyal Eden was to Bonnie even though she often didn't deserve it. I do really like books that tap into and explore friendship and this really focused on that. I also adored Eden's boyfriend Connor, I thought he was lovely, so kind and loving towards Eden their relationship was great. Furthermore I really took a liking to Eden's older sister Valerie. As the book went along I really enjoyed watching the development of her and Eden's relationship.
The Witch's Blood by Elizabeth and Katharine Corr
Rating 4.5/5
Life as a teenage witch just got harder for Merry when her brother, Leo is captured and taken into an alternative reality by evil witch Ronan. Determined to get him back, Merry needs to use blood magic to outwit her arch-rival and get Leo back. Merry is more powerful than ever now, but she is also more dangerous and within the coven, loyalties are split on her use of the magic. In trying to save Leo, Merry will have to confront evil from her past and present and risk the lives of everyone she's ever loved. Given the chaos she's created, just what will she sacrifice to make things right?
I'm not going to discuss this book in too much detail as I have a full trilogy review coming soon but needless to save I loved it. I have become so submerged in this series and just devoured it. I was eager to read this book and finish this series but did so with a heavy heart as I really didn't want it to be over. I'm so sad so say goodbye to Merry and Leo, I loved watching their relationship grow and change and seeing their unbreakable sibling bond was great. I am now eagerly awaiting more of the same from Elizabeth and Katharine.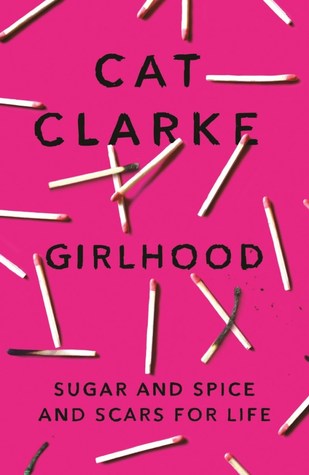 Girlhood by Cat Clarke
Rating 3.5/5
Harper has tried to forget the past and fit in at expensive boarding school Duncraggan Academy. Her new group of friends are tight; the kind of girls who Harper knows have her back. But Harper can't escape the guilt of her twin sister's Jenna's death, and her own part in it – and she knows noone else will ever really understand. But new girl Kirsty seems to get Harper in ways she never expected. She has lost a sister too. Harper finally feels secure. She finally feels…loved. As if she can grow beyond the person she was when Jenna died. Then Kirsty's behaviour becomes more erratic. Why is her life a perfect mirror of Harper's? And why is she so obsessed with Harper's lost sister? Soon, Harper's closeness with Kirsty begins to threaten her other relationships, and her own sense of identity. How can Harper get back to the person she wants to be, and to the girls who mean the most to her?
I bought this book as part of the Zoella and Friends book club bundle and never got around to reading it. For some reason it leapt out at me when I was scouring my shelves for so something YA to read. There were lots of great things about this book and I whizzed through it throughly enjoying it. However it left me feeling a little underwhelmed. The setting was fabulous don't know why but I do love a book set in a boarding school. There was a lot of focus on friendship which as I said previously I really enjoyed in books. We follow the impact new student Kirsty had on a friendship group. There was a constant underdone indicating Kirsty may not b as she seems and it felt quite sinister at times but for me that didn't go far enough and the ending just left me feeling a little flat. I just felt the story was building towards something big but that then fizzled out. However despite this I really really enjoyed reading it. I am now really keen to visit Cat Clarke back catalogue and will do very soon, luckily there are plenty to choose from.