I have been rather absent on my blog of late, a mixture of reading slumps, computer issues and the start of a new job has taken me out of the game for a while. I can't believe how quickly the summer has flown by. July was an interesting month for me as I went on a real book buying binge and bought a huge amount of books, I acquired over 20 in total! I have no idea why but I just wanted to buy lots of books and found a fantastic amount in The Works which as usual were marvellously priced. Despite having a massive pile of new books to choose from I found I was in a massive reading slump towards the end of July. I am unsure what sparked this but it unfortunately carried on well into August. I just found myself starting lots of books but none of them were grabbing me and hooking me as usual. I've found this rather stressful as I have never been in a reading slump for so long before, I have been questioning if I will ever escape it! This has hence forth this impacted on my blog, and have been neglecting it quite a lot. I guess if I'm not reading and loving books it diminishes my ability to feel passionate and write about it.
As August has gone on I have been creeping out of this slump but a new job has left me with little time for reading so I'm now faced with new challenges of the reading front. Despite this I have managed to read some rather good books over the last two months, it's been slow going but there have been some gems.
July
The Summer of Impossible Things – Rowan Coleman
Rating 5/5
If you could change the past, would you? Thirty years ago, something terrible happened to Luna's mother. Something she's only prepared to reveal after her death.  Now Luna and her sister have a chance to go back to their mother's birthplace and settle her affairs. But in Brooklyn they find more questions than answers, until something impossible – magical – happens to Luna, and she meets her mother as a young woman back in the summer of 1977.  At first Luna's thinks she's going crazy, but if she can truly travel back in time, she can change things. But in doing anything – everything – to save her mother's life, will she have to sacrifice her own?
I loved this book so much! It has slipped itself straight into my favourites for this year. I found my way to this book via the Zoe Ball book club. I wasn't reading along but was watching the features on the show. Hearing the author reading a segment of this story immediately intrigued me so I had to pick it up right away. In this story we meet sisters Luna and Pia as they travel to Brooklyn New York so settled their mothers estate following her suicide. Whilst there they discover some old home movies their mother had made that leads them to a dark family secret. Astoundingly Luna then finds she has the ability to travel back to the summer of 1977 where she comes face to face with her mother and the awful truth of her past. Luna then has to decide if she should try to change history in an attempt to save her mother even if it means sacrificing herself.
As I said I loved this book so much, it completely took me by surprise, I could easily write a whole review. Upon reading the synopsis it didn't immediately appeal to me as I was unsure about the magic element to it, I like my books to stay quite grounded in realty and everyday situations. However hearing Rowan Coleman read an extract really drew me in. I felt this book was written so beautifully, the story was utterly compelling and I couldn't put it down. One my favourite parts of this book was the way Rowan writes and describes the summer of 1977 New York. There was an extreme heatwave and you can feel the claustrophobia and suffocation of this that the characters must be feeling. This just adds to the tension that you feel as a reader. Family really is at the heart of this book though Luna and Pia have a lovely relationship and despite the girls experiencing some difficult times with their mum when she was alive you can feel the love and respect they have for her. This is the theme that runs throughout the story, Lunas trips back to 1977 are driven by protecting her mum even if this means massive ramifications for her. Lunas relationship with her mum she meets in 1977 was just beautiful. I will say I did guess the family secret from the off and I guessed the twist but I didn't guess the outcome that resulted from this and it certainly didn't hinder my enjoyment. Finally I loved the romance element to this story. Again I was hesitate about this and if I would buy into it but I totally did. I was also pleasantly surprised by the outcome of this and thought it was perfect.
The Cherry Tree Café – Heidi Swain
Rating 4.5/5
Lizzie Dixon's life feels as though it's fallen apart.
Instead of the marriage proposal she was hoping for from her boyfriend, she is unceremoniously dumped, and her job is about to go the same way. So, there's only one option: to go back home to the village she grew up in and to try to start again. Her best friend Jemma is delighted Lizzie has come back home as she has just bought a little cafe and Lizzie's sewing skills are just what she needs to help get it ready for the grand opening. With a new venture and a new home, things are looking much brighter for Lizzie. But can she get over her broken heart, and will an old flame reignite a love from long ago…?

I had previous read a couple of Heidi Swain's book before but decided this month it was time to start from the beginning. The books I have read of Heidi's I have loved. They are all companion novels not a series so you can read them in any order. However there is part of me who finds it much more satisfying to go in order and Cheery Tree Café is where it began. One of my favourite elements of Heidi's novels are the little cross overs between the books. I love a cheeky cameo from a character we have met before or in the case of this book people who are the focus of later novels. In this story we meet best friends Gemma and Lizzie, Lizzie has returned to her home town following a break up with in my opinion her awful boyfriend whilst Gemma and her husband are struggling to fund their dream of opening a café. Lizzie's love of craft and sewing teamed with Gemma's love of baking make them the dream combination and before long they have teamed up to open The Cherry Tree Café, a place where customers can indulge in sweet treats whilst they feed their love of sewing and craft. However as with any dream things aren't destined to run smoothly as Lizzie meets Ben an old crush from her past, and is given the opportunity to live her own dream she didn't even know she had. My long standing dream has been to open a shop that is half café running baking classes and half sewing shop running sewing classes so this book use fed my dreams. It was such a lovely idea, I like books about people opening cafes but the addition of the craft made it perfect. This book was laced with the warm quaint feels I love in books. I was surprised by Lizzie and Gemma because in later books they always appear so close but in this book they had a good share of squabbles. However you can see how much they mean to each other and that's unquestionable as the book develops. Fabulous and I now own paperbacks of all of Heidi's books so I cannot wait to continue on with her works. 
The Weekend Wives – Christina Hopkinson
Rating 2/5
A few months ago, Emily and her husband sold their house in the city and bought a place in the country. But Emily didn't know that it would sometimes feel like a move to another country altogether. Moreover, with Matt working in the city from Monday-Friday, and only coming home to her and the kids at the weekend, Emily is suddenly plunged into the world of a 'weekend wife'. With all the obstacles . . . and secrets . . . that brings with it.
In complete contrast to the last book I did not enjoy this one at all. I grabbed this book from The Works a couple of years back because it sounded like something I would really like. However I really didn't gel with this book, now its worth mentioning now that whilst reading this I was hit with a reading slump. I questioned if I judged this book harshly because of the slump or whether it was this book that pushed me into this slump. However since escaping my slump I haven't felt the urge to pick it up again and have another go. We follow three women at various stages in their life whose husbands all work away during the week. As expected all three couples have issue and the relationships have secrets in them and over time these women form a friendship. The premise was good I really thought I would like it but I think my major issue was the lack of likability in the three women and even in their husbands. I just didn't gel with any of them and didn't really care about their lives. In the case of one of the women Tamsin there is an element of abuse in her relationship but I didn't think it was a particularly good portrayal. I think the fact I didn't feel an ounce of sympathy or compassion for Tamsin situation spoke volumes and reflected that. I also did semi DNF this book which is so rare for me, about half way through I started skim reading so I could find out the outcome to each ladies situation. I guess the fact I wanted to find out the outcome enough I skimmed through to do that is a positive but it just wasn't for me.
The Sing-along Society for Singletons
Rating 5/5
Monique and Issy are teachers, housemates and lovers of musicals! Their Friday night routine consists of snacks, wine and the Frozen DVD. So when Monique's boyfriend moves to America for a year and her sister Hope moves in because of her own relationship woes, Friday nights get a new name… 'The Singalong Society for Singletons'! It's a chance to get together, sing along to their favourite tracks from the best-loved West End shows, and forget the worries of work, relationships and love (or lack of it). But when Issy shares the details of their little group further afield, they get some unexpected new members who might just change their opinions on singledom for good….
Following my experience with the previous book and my now being in a reading slump I was scared to pick this up but I am glad I did. In this story we meet friends and flat mates Monique and Issy, Monique is struggling with the fact her high school sweetheart has moved to America for a year for work whilst Issy is externally single. They spend their Friday nights watching musicals and singing away their heartache. However when they share this with friends and family they start to find there selves with some unexpected members and for The Singalong Society for Singletons. So this book was a total whim pick up for me and when they turn out to be 5 star reads I could not be happier, I always think I could have easily missed the opportunity to read you and my life would be sadder for it. There was so much I loved out this book, firstly the cover is stunning! Secondly I loved both Monique an Issy, they are lovely characters individually and had a great friendship. They are flat mates and I have always been curious as to what it would be like to have a flat mate (a friend not a husband as I currently have) so I found that interesting. They also didn't have a picture perfect friendship, they had squabbles and things that annoyed each other so that was refreshing because friendships aren't always picture perfect. Next I loved that they were teachers, I haven't found much many books about teachers but I really like this feature in a book. I also really liked the development of Monique both personally and in her relationship with her absent boyfriends. Finally the best part of this book by far was the musical element. Every chapter starts on a Friday night with musical or a film picked by a member of the group. Some of those featured I had watched and some I hadn't but after reading this I want to go and watch them all. The group talk about the films they are watching so if you have seen the musical it just takes you back making you want to watch it and sing along. It was this book that made me wanted to finally watch Mamma Mia all the way through which was one of my favourite parts of this month. That in turn sent me on an ABBA music binge which was just a joy. Interestedly I really appreciated this book when I read It but its only over a month on as I write this having coming out of my reading slump that I realised it was so much better than I first thought. I am now very keen to check out some of Katy Lovell's other works.
August
Noah Can't Even – Simon James Green
Rating 4/5
Poor Noah Grimes! His father disappeared years ago, his mother's Beyonce tribute act is an unacceptable embarrassment, and his beloved gran is no longer herself. He only has one friend, Harry, and school is… Well, it's pure hell. Why can't Noah be normal, like everyone else at school? Maybe if he struck up a romantic relationship with someone – maybe Sophie, who is perfect and lovely – he'd be seen in a different light? But Noah's plans are derailed when Harry kisses him at a party. That's when things go from bad to utter chaos.
As August dawned my reading slump really took hold and I spent a lot of the month starting books and putting them back down again. I then picked up Noah Can't Even to try a chapter and just seemed to keep reading. As with the previous book I read its only now upon reflection out of the reading slump that I can really appreciate how good this book was and how much I did enjoy it. I actually spent a large proportion of the month reading this book, not the fault of the book but jut how my reading was faring. We are introduced to Noah Grimes who isn't having a great time in life. His father is absent, his mums job is making him a laughing stock at school all Noah wants to be be 'normal' and he thinks a relationship with friend Sophie could be the answer. That is until his best friend Harry kisses him sending Noahs world spiralling. I wanted to start by saying that my number one favourite part of this book is the humour. I have said many a time that I loved books that can make me laugh aloud and this book had me chuckling on the train (not embarrassing at all!). Throughout this story I really felt for Noah, he's such a sweet if slightly socially awkward guy but he just cannot seem to catch a break. In amongst all the issues Noah faces there is a constant humour emitted my Noah although I don't always think its intentional on his part. He's just a really witty and funny, I really do rate Simon James Green and his writing of Noah he's just great. I found the scenes between Noah and his mum at times hilarious and at times rather heartbreaking. In contrast I thought the relationship between Noah and his Gran was again funny but also really warm loving almost the opposite of his mum. Despite the ending being a happy one I cant help but think Noah's dramas are far from over as we head into the next two books.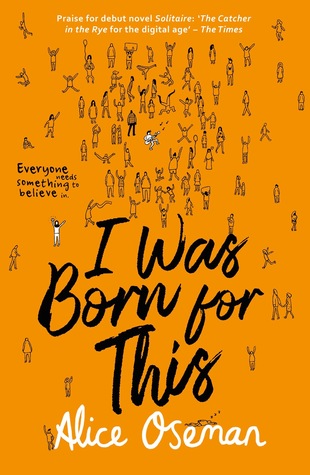 I Was Born For This – Alice Oseman
Rating 3.5/5
For Angel Rahimi life is about one thing: The Ark – a pop-rock trio of teenage boys who are taking the world by storm. Being part of The Ark's fandom has given her everything she loves – her friend Juliet, her dreams, her place in the world. Jimmy Kaga-Ricci owes everything to The Ark. He's their frontman – and playing in a band with his mates is all he ever dreamed of doing. But dreams don't always turn out the way you think and when Jimmy and Angel are unexpectedly thrust together, they find out how strange and surprising facing up to reality can be.
I decided at this point I would try to make August a dedicated YA month, I have no idea why but i think having seen everyone's YALC blog posts and Booktube videos made me want to immerse myself in these kind of books. However once again that pesky reading slump was plaguing me. I did decide to give I Was Born For This a try as its been out for a few months now and I enjoyed Alice's book Radio Silence so much. I was scared to read this book because there has been so much hype surrounding it and after how much I loved Radio Silence I didn't want to be disappointed. I started reading and found it quite easy to get into. However quite quickly my attention started to wander, again I do partially put this down to the slump but I don't think this is the sole reason. This book is a dual perspective told by the lead singer of a boyband called The Ark named Jimmi and from the perspective of Angel who is a huge fan of the The Ark. Angel has arranged to spend the week with her online friend Juliet so they can attend The Arks concert and meet and great. Now I thought the premise here was really interesting. I knew before reading it somehow Angel and Jimmi's paths cross but I had no idea how and I was quite surprised how this happens and the outcome of this. I guess part of me thought Jimmi and Angel would meet and become best friend but Alice's books always seem to have a lot more depth than that and this one did. This book certainly has a lot of layers to it. Firstly you have the friendship between Angel and Juliet as they are meeting for the first time, you have the added entity of Juliet's friend being part of their fandom week which Angel was not expecting. There is the exploration of the world off fandom, both the good and the bad side. You then have the experiences of being in a hugely successful boyband, the pressure that comes with this and its affects this can have on an individual's mental health. All of those are just the tip of the iceberg without even going into how we have characters who are Muslim, transgender, bisexual, characters experiencing addiction and mental health struggles. There are just so many amazing layers to this story that Alice builds so well and she weaves it altogether so cleverly. A particular highlight of this book for me was the relationship between Jimmi and his grandad, I just thought it as sincere and really provided that anchor Jimmi needed. Similarly this was the case with the relationship between the three boyband members, I really like them together and despite there being some issues within that group the love and support they had for each other just oozed through. However as I said earlier my attention did wander slightly and I think I put this down to the other side of the book in Angel and Juliet. For whatever reason I didn't really take to either of them which is such a shame because obviously Angel is a huge part of this story so of course I wanted to like her but I just didn't. Equally as the book went on I wasn't keen on Juliet and didn't think she was particularly likeable. This does improve near the end but it was a little late to change how I felt about her. Overall I just didn't find myself desperate to pick this book up when I wasn't reading it. I always try not to compare books by authors but I think because I loved Radio Silence so much I as expected this to blow me away and it didn't. I guess for me this book was good but it wasn't earth shatteringly good either as I had expected it to be.
Hocus Pocus – A.W.Jantha
Rating 3.5/5
Shortly after moving from California to Salem, Massachusetts, Max Dennison finds himself in hot water when he accidentally releases a coven of witches, the Sanderson sisters, from the afterlife. Max, his sister, and his new friends (human and otherwise) must find a way to stop the witches from carrying out their evil plan and remaining on earth to torment Salem for all eternity.
Twenty-five years later, Max and Allison's seventeen-year-old daughter, Poppy, finds herself face-to-face with the Sanderson sisters in all their sinister glory. When Halloween celebrations don't quite go as planned, it's a race against time as Poppy and her friends fight to save her family and all of Salem from the witches' latest vile scheme.
And finally after an abysmal show that was August I was determined to squeeze in a finally book so chose Hocus Pocus and the All New Sequel. I had been busting to read this since I first heard about it and despite my planning it to be a plane read I just couldn't wait. Essentially this is a book of two half's in that the first half is a literary version of the original 1993 film Hocus Pocus. Max Denison has recently moved against his wishes to Salam Massachusetts with his family. He is not keen on the town and is missing his old LA lifestyle. He is even less keen on the towns belief in witches and witchcraft, Max is a non-believer, it's just a bunch of Hocus Pocus right?. The only good thing about the town is his beautiful class mate Alison. On all hallows eve, desperate to impress her Max makes a grave mistake one that leaves him, Alison and his sister battling age old magic in the form of the town's famous Sanderson sisters. The second half of the book picks up 25 years later in the current day where we meet Max and Alison's daughter Poppy along with her friends as they face off against the return of the Sanderson sisters. The first half of the book was interesting. For anyone who knows the film well you can see it's a completely accurate portrayal of the film to the point most of the dialogue is identical to the script. Whilst I loved the fact it was so true at the same time because it was so similar and I know the film so well I found myself replaying the film scenes in my head whilst reading the dialogue. This meant I wasn't really reading the book but skim reading whilst thinking about the movie and I think this may be the case for others who know the film well. There were a couple of scenes in the book that built on the film and took it further offering an insight into the characters feelings at that time which was never part of the film. However much of it was exactly the same as the film which honestly I didn't mind too much but I have a feeling not everyone would enjoy. The second part of the book was also a lot of fun. It was nice to get a potential story as to what may have happened after the film ended. One question that as always left unanswered in my mind was if Jay and Earnie had ever escaped those cages and this story did answer questions like that which I did like. I think this book is going to be a real marmite read some people regardless of if they had seen the film or not will love it and others will hate it as is always the case with re-imaginings. For me I really did enjoy this book and it pulled me from my slump! Yay!. However I didn't feel it was earth shattering, it was s fun book that really pulled on my nostalgic heart strings and led to me re-watching the film for what must be the 1000th time.